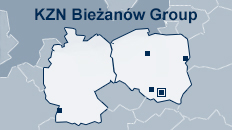 Kontakt
86-100 Świecie, ul. Bydgoska 1
Tel.:+48 52 332 16 50
Fax: 052 33 21 933
e-mail: biuro@railsea.pl
www.railsea.pl/spolki_polska.html
Vistula Rail Operator Sp. z o.o.
Vistula Rail Operator provides comprehensive servicing of railway sidings. This comprises both management of railway traffic (drafting and driving of trains, provision and weighing of carriages), logistic-forwarding operations and storage (servicing of cargo reloading yards, storage and container terminals) as well as railway infrastructure (ongoing maintenance, repairs).
The services of the company have been used for many years by international concerns from the paper industry branch suchas Mondi Świecie and Stora Enso. Since the middle of 2012. Vistula Rail Operator has been incorporated within the KZN Bieżanów Group, thanks to which it can offer its contractors surface products and services of the highest quality at the most beneficial terms. Additionally, drawing on the strength and potential of the capital group, the company actively seeks out new customers.