Switcher commercialised in the zone
Switcher makes use of an innovative technology that is just entering final marketing phase. The advanced system for the logistics of railway turnouts designed, produced, and developed by the Kolejowe Zakłady Nawierzchniowe "Bieżanów" thanks to the funds from the National Centre for Research and Development (NCBiR) will now go into serial production thanks to a new investment project conducted in the Kraków special economic zone. To make it possible, the Board of the Kraków Technology Park (KTP) issued a permit for the company to operate within the zone a few days ago.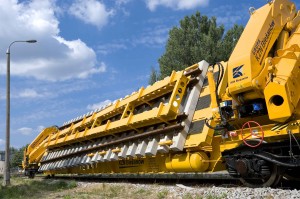 The company's investment will include the development and further modernisation of the plant. The purpose is to launch the production of an innovative dumper car with a tipping platform, a safe and precise hydraulic lifting system, and special modules increasing the load rigidity and stabilisation. The Switcher will help to assemble railway turnouts faster, also on tracks dedicated for high velocity trains, maintaining the highest quality and durability of these elements of rail infrastructure as they are highly significant for travel security.
Thanks to the technology developed at KZN, the production of a railway turnout, ending with the final assembly of the unit into the railroad system will run in a single, controlled technological process. The turnout will arrive at the place of its installation as a ready-to-assemble unit. This will make it possible to avoid its disassembly at the production plant and reassembly at the construction site, which had a negative impact on the precision and infallibility. The technology gained recognition among experts and practitioners in the field, and received numerous awards for innovation in the national Teraz Polska Competition, the regional Innovator Małopolski Competition, and in the industry-wide Ernest Malinowski Competition.
The investment project conducted in the KTP monetises the research work previously co-financed from the funds of the NCBiR, as part of the action 1.5 OP IE in the Innotech III programme, In-Tech path. KZN "Bieżanów" will invest at least PLN 30 million and set up at least 40 new jobs. At the moment, the companies employs 200 people.
Other News