Accomplishments
We do not operate in a business vacuum. We are not a monopoly who does not leave its competitors any alternative. The opinion of the market concerning our products and services remains a constant determinant of our success. We struggle for clients not only through prices, but first of all through the quality of our services, standards of workmanship, innovative solutions, complex offer and rich package of after-sales services.
Market trust is ex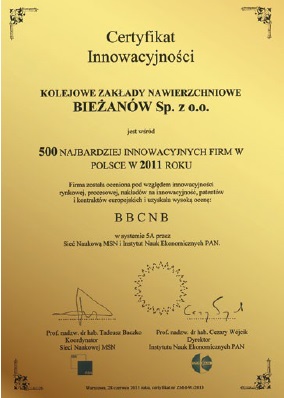 pressed by:
Contracts awarded to us – we supplied turnouts for investments concerning core railway corridors, such as the main lines: E20, E30, E59, E65; within the KZN Bieżanów Group, we have conducted numerous investments concerning rail infrastructure, e.g. complex modernisation of the track layout and elements of the railway infrastructure at the Wrocław Main Railway Station, or tramway investments in Wrocław, Kraków, Bydgoszcz and Toruń.
Certificates Received – We have received certificates for turnouts dedicated for speeds of 160 and 200 km/h – in 2012, these were the 60E1-1200-1:18,5 sb and 60E1-500-1:12 sb constructions.
Awards Received – for the past 3 years, we have been regularly included in the List 500 of most innovative enterprises in Poland, i.e. in the objective ranking conducted by Instytut Nauk Ekonomicznych PAN (Institute of Economics of the Polish Academy of Sciences) active within Międzynarodowa Sieć Naukowa(International Science Network) (edition 2013 – ranking 91 on the general list and 45 on the list of small and medium businesses); of great value to us was also the award of Innowator Małopolski (Innovator of Lesser Poland), awarded by the local authority of the Małopolskie Voivodeship and the Technology Transfer Centre of the Cracow University of Technology for the complex manufacturing process – by casting – of mono-block frogs and other elements for a new kind track turnouts made from cast steel of a bainitic structure.